Koru 1.7
28 Sep 2019
This update adds interactive clickable callouts and some other features. Read on for more details.
Interactive Callouts
There is a nice new option in the callout properties panel that lets you make them interactive: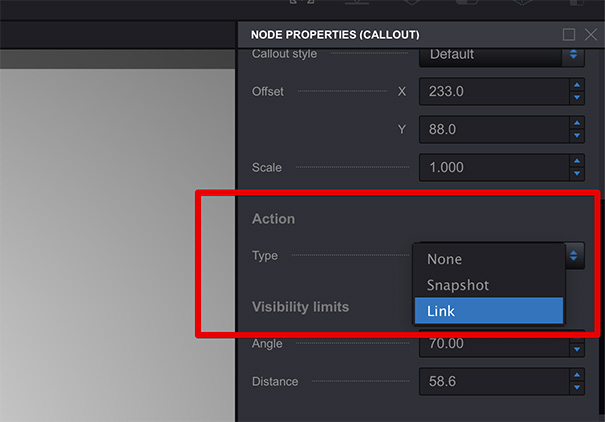 There are three callout types to choose from:
None — just a standard callout as they are used to be;
Snapshot — interactive callout that activates a selected snapshot;
Link — interactive callout that opens an url.
Each type has its own settings, so you can customize their behavior. Let us know if you want more callout types there.
JavaScript API Improvements
We added more parameters to material layers in JavaScript API, this version lets you control mask and opacity parameters from scripts. See here for more details.
Other Changes
There are also other minor changes and improvements in this update:
Added support for the second UV mapping channel;
MacOS compatibility improved;
Better processing of missed resources when collecting them;
Bump generation issues fixed;
Crash in materials editor fixed;
Scene loading errors fixed.
Cheers!