Koru 1.3
01 Oct 2017
Koru goes to the cloud! The new release is about the new "cloud" export option that lets you bring your scenes online in just a few mouse clicks. Sounds interesting? Read on…
New Export Wizard
To make scene export even simpler, we've slightly updated our export wizard. Here's what it looks like now: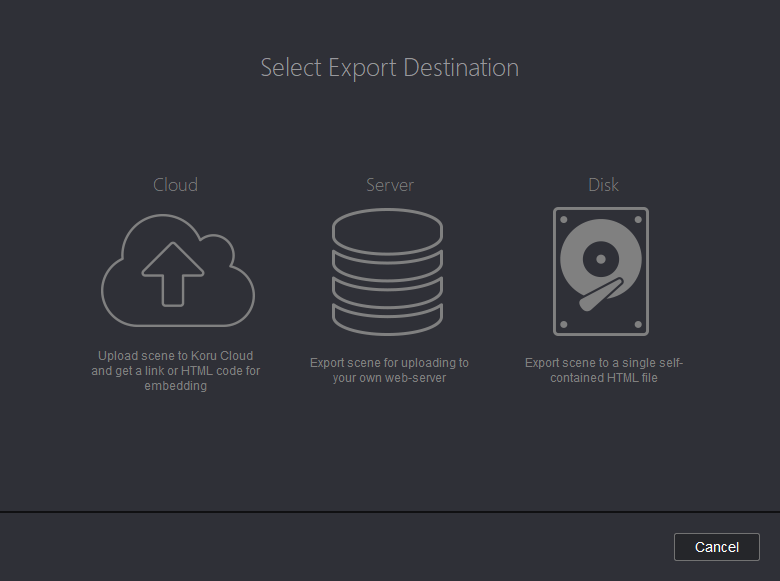 At the very beginning you have three options:
Server and disk options were there before, while the cloud option is new in this version. Let's discuss the details.
Koru Cloud
Koru Cloud hosts your scenes for you if you don't want to mess with HTML and Javascript. Now you can showcase your design to the world or simply send a link to the customer in just a few clicks!
Once the scene is uploaded, you get this in the browser: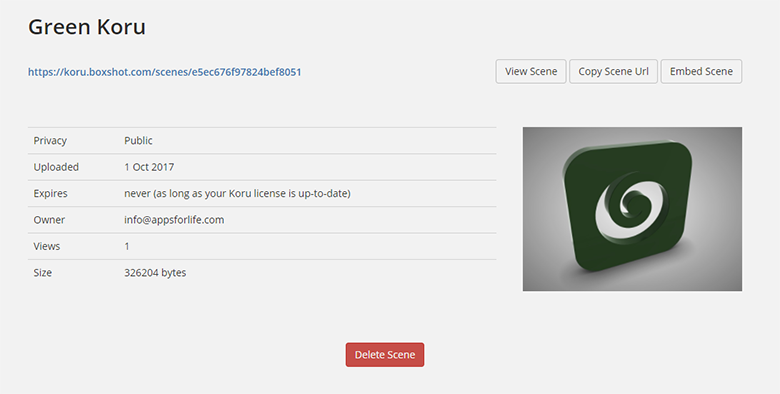 That's the administration panel of the scene where you can get the link for sharing, get HTML code for embedding, or simply see the stats. If you don't need the scene online anymore, you can also delete it there. Best of all, you don't need special accounts to access the scene - everything is inside the link you get from us. The link is your login and password to the scene, so don't miss it. To make sure you don't, we send it to your email (if you have a Koru license).
If you have a Koru license, we'll store your scenes as long as you keep your license up to date. If you don't have a license, we'll keep your scenes online for a month. Fair usage policy applies. If you expect a high number of views of your content, please contact us to discuss the options.
One-Line Scene Embedding
With Koru Cloud it takes just two lines of code to embed the scene. Here I clicked "Embed Scene" button in the admin panel: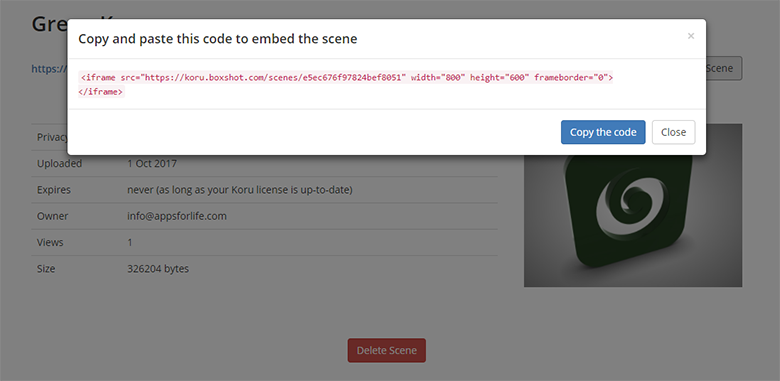 As you see, I've been asked to copy and paste just two lines of code. Not a problem, let's try:
I've got 3D model in this post with just two lines of code! You can rotate and zoom it like any other Koru exported scene.
Best of all, you can even fit it all in just one line by joining the lines together. The shortest Web 3D publishing ever :)
Any Limitations?
Koru Cloud does not support export templates. It is designed for simplicity and always works in "full screen template" mode. This means you get everything by default, except for the preview size that you can configure. This should be fine for most of the cases, except if you need customization. Then consider exporting for server with all the features at your fingertips.
Anything Else?
Not really. This release is about Koru Cloud, but anyway we've slightly updated the user interface by making scrollbars smaller and toolbar icons crispier. Besides that some minor issues have been fixed. Enjoy :)
We'd like to hear from you in the comments below. Feel free to share your experience and scenes :)
Cheers!