Boxshot 4.8
09 Dec 2014
As you might guess from the title, we've just released a new version of Boxshot. New shapes, new rendering engine, new export formats and much more. Read on for more details.
New rendering engine
Since version 4.7 Boxshot has a new preview driver called "Raytracer 2 (beta)" - you could find it in the View -> Drivers menu. This is a completely new rendering engine that utilizes some crazy-complex algorithms to offer you a state of the art rendering quality. (Well, OK, sort of :)
In this version we also added it as the production rendering option, so you can now choose between the old "RayTracer" and the new "Raytracer 2 (beta)" in the rendering settings window: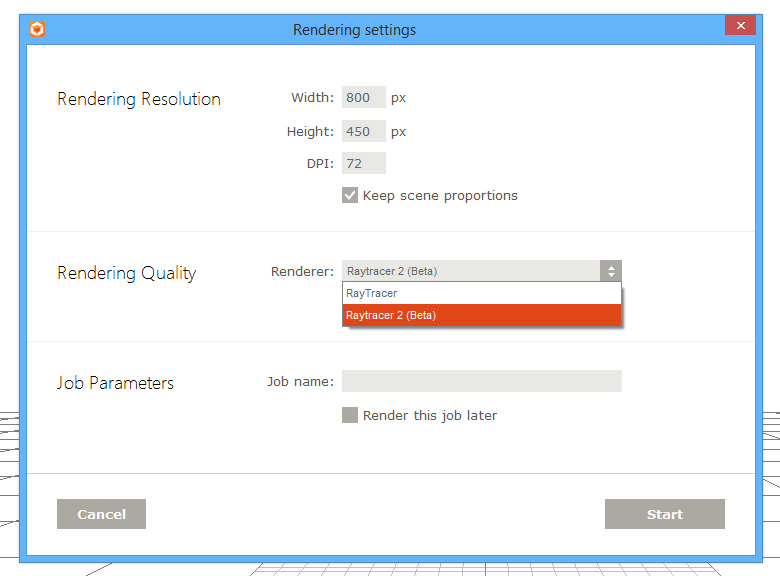 Compared to the old rendering engine, the new one renders sharp but noisy image from the very first frame and then improves it step by step, until the quality becomes acceptable. You can configure this in the Settings window.
The new engine makes better edges and takes much more care about glass and semi-transparent materials. But best of all, it is about 30% faster on most of the scenes!
Although it is still in beta, you are more than welcome to use it in production. So far we see no cases where it performs worse than the old one. Give it a try and let us know.
Unfortunately, the new engine does not work on Windows XP, so please consider upgrading your opertating system to get the most of the new Boxshot. It is also much recommended to run it on 64-bit OS, as the new engine consumes a lot of memory and may fail on 32-bit systems.
New "Pharma Pills" shape
This update comes with a highly-configurable pills blister shape. You can define the number of pills, choose from about 20 different shapes, add some randomization and render a perfect shot (as usual :)
You can bend packs to make them more realistic, tile or stretch images and configure gaps. Then render another great image:
The shape is available in Professional and Ultimate editions.
Other shape-related improvements
Until this update Boxshot tried to be smart when scaling book shapes. The idea was to prevent the non-uniform scaling of spine and corners, but for some cases this ends up with weird results. So we added a Smart scaling option that allows you to control how smart Boxshot needs to be.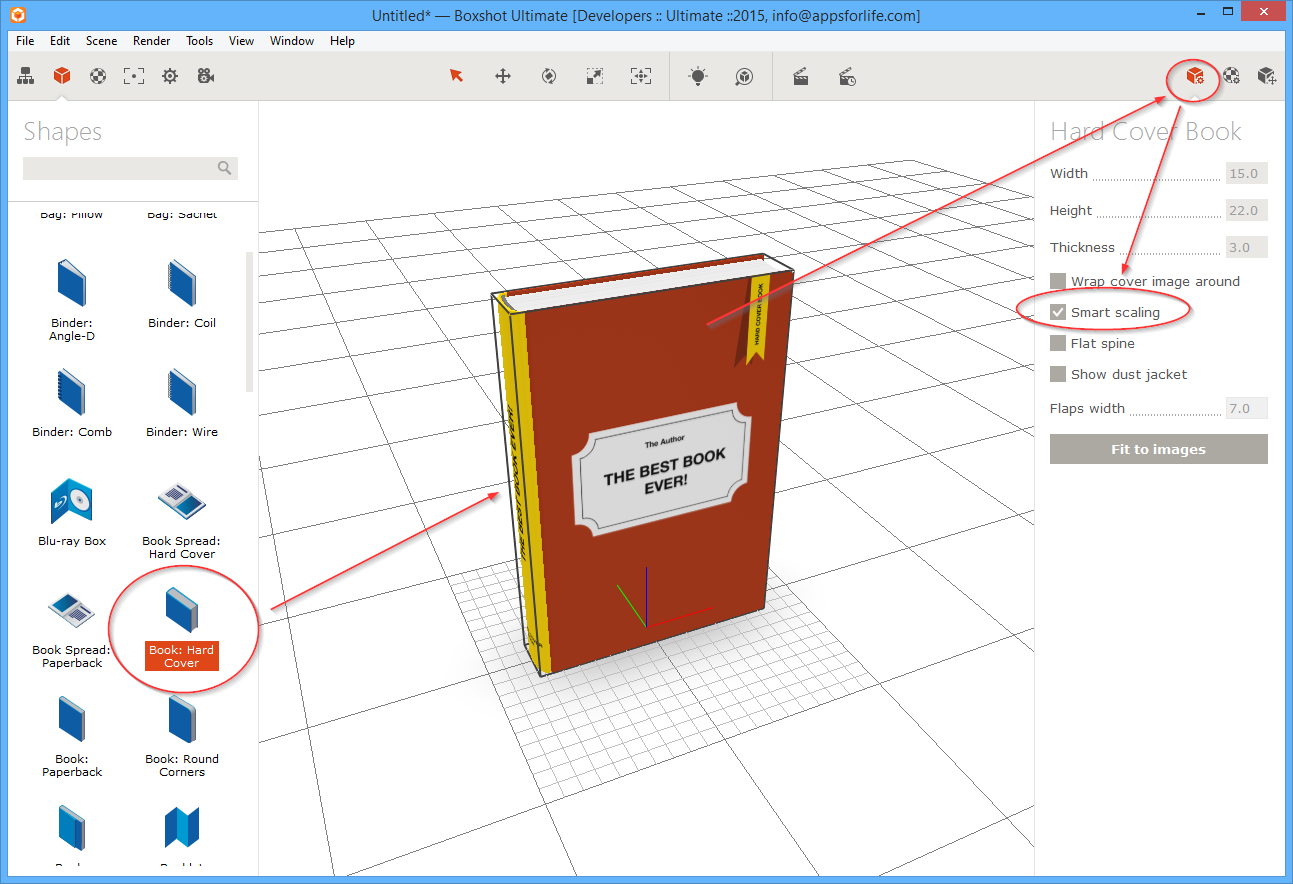 It is enabled by default for Hard Cover books and disabled for Paperbacks. We also improved paperbacks' spines and the side geometry of the "Image" shape. Both look slightly better now.
Rendering improvements
We did a lot of tests while adding the new rendering engine and spotted some issues with the old one. We improved texture mapping, transparency handling (especially the "transparent shape over the transparent background" case) and improved blurred floor reflections rendering.
Box Shot 3D related changes
This update improves the import of old Box Shot 3D files. We added tagged boxes and paper bags and also made the imported shadows closer to the Box Shot 3D ones. If you still use the now-retired Box Shot 3D - it is definitely the time to upgrade.
Exporting features
This version comes with the OBJ format exporter. The format itself is pretty odd as every application that supports it, gives its very own results when reading the file, so we decided to target Photoshop. It doesn't support all the features, as well, though. Turn the back faces off in Photoshop after importing the shape to get the best results.
We have also improved Collada format support in this update. Boxshot now handles materials better while importing and exporting the shapes.
Materials improvements
After adding paper thickness to Origami we had to add the UV scale and offset options to Boxshot. We also improved texture wrapping and clamping support. Now you can render a perfect cardboard shape exported from Origami: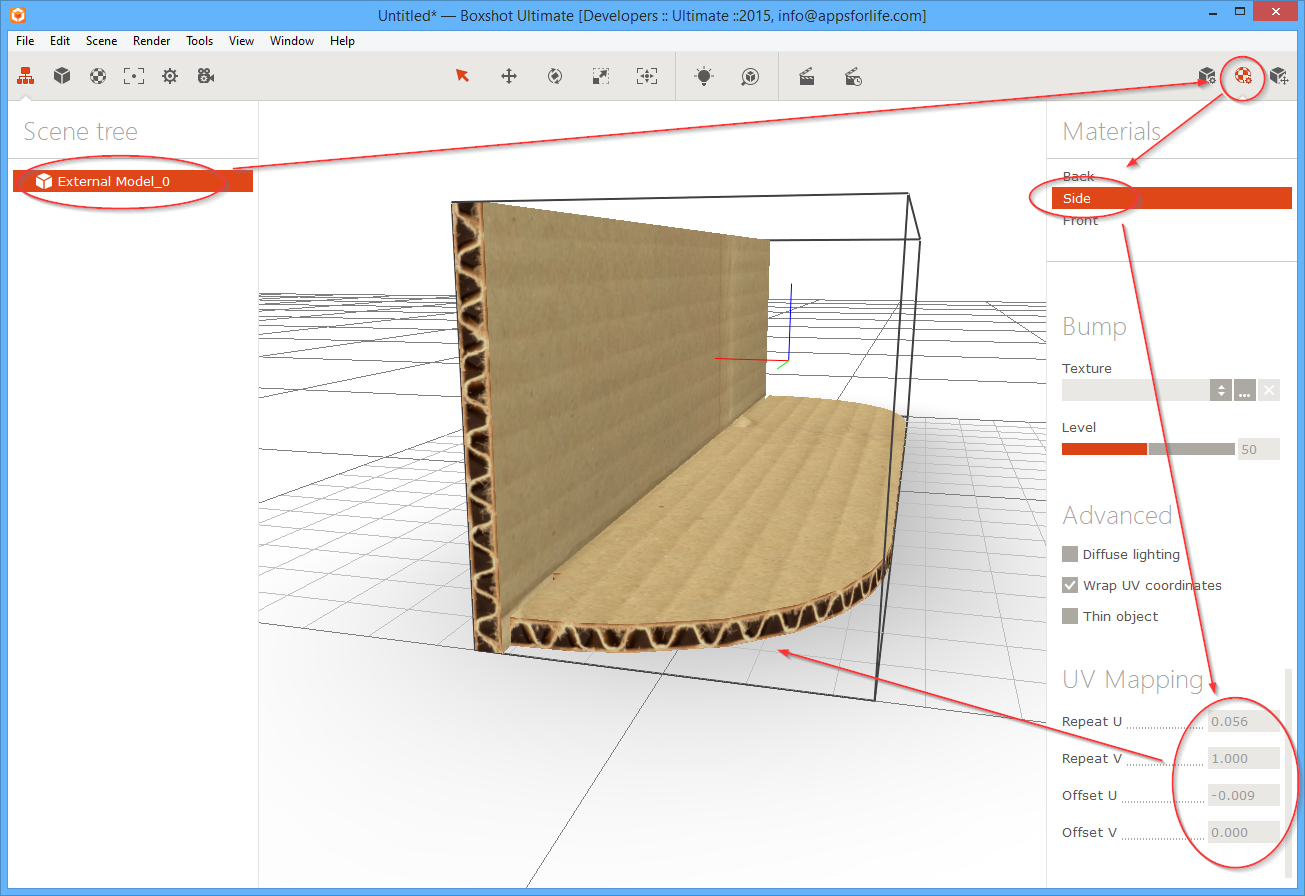 You need the Ultimate edition to use this feature.
But that's not all
We also improved OS X compatibility, ehnanced graphics acceleration support, fixed file naming for queued renderings, updated 3rd party components and fixed some bugs. Great job, well done!
Cheers!