Boxshot 4.10
09 Mar 2016
A long awaited update is here! The reason it took so long has been updated today, as well. We've added Owlet integration, so you can export scenes to Owlet and even render them directly, if you like. Sounds promising? Read on!
Owlet Integration
As you may have already known, we released a general-purpose rendering software named Owlet. Compared to Boxshot, it doesn't have built-in shapes, but instead it provides much more options to configure scenes, materials and shapes themselves. Owlet stands between Boxshot and professional 3D editors and requires more 3D skills to use, but the results are also better.
With this update you can use Owlet directly from Boxshot by either rendering with it or exporting scenes to its format for further processing there. Note, that both features require the Ultimate edition of Boxshot. Here is the same scene rendered by Boxshot (left) and Owlet (right):

Owlet cares more about lights and shadows, so you get a more realistic picture. Boxshot tries to be simpler and faster, but sometimes makes images that are not that perfect. Now you can get the best of two worlds by selecting Owlet in the rendering engine dropdown list in the rendering settings window, or by selecting "Owlet Scene" format when exporting scenes using File > Export menu.
New Shapes
This update comes with two new shape types: plastic buckets and pallets. The buckets come in three types with optional lids, labels and handles. Here's what you get: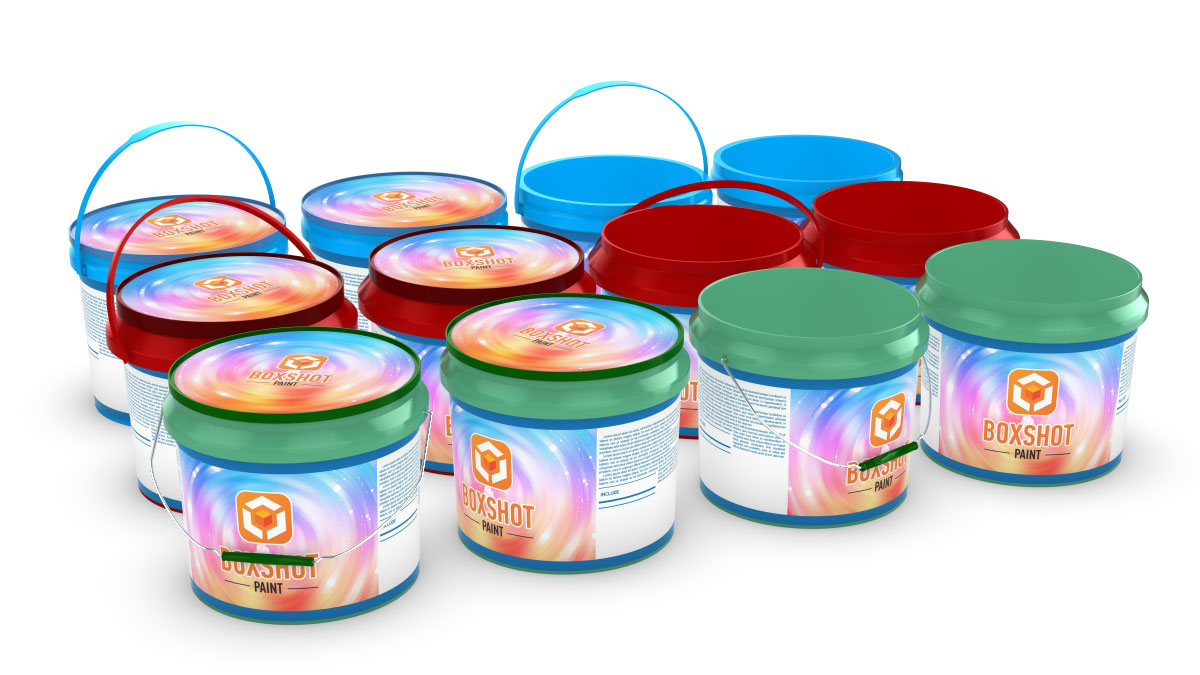 Here is the same scene rendered by Owlet: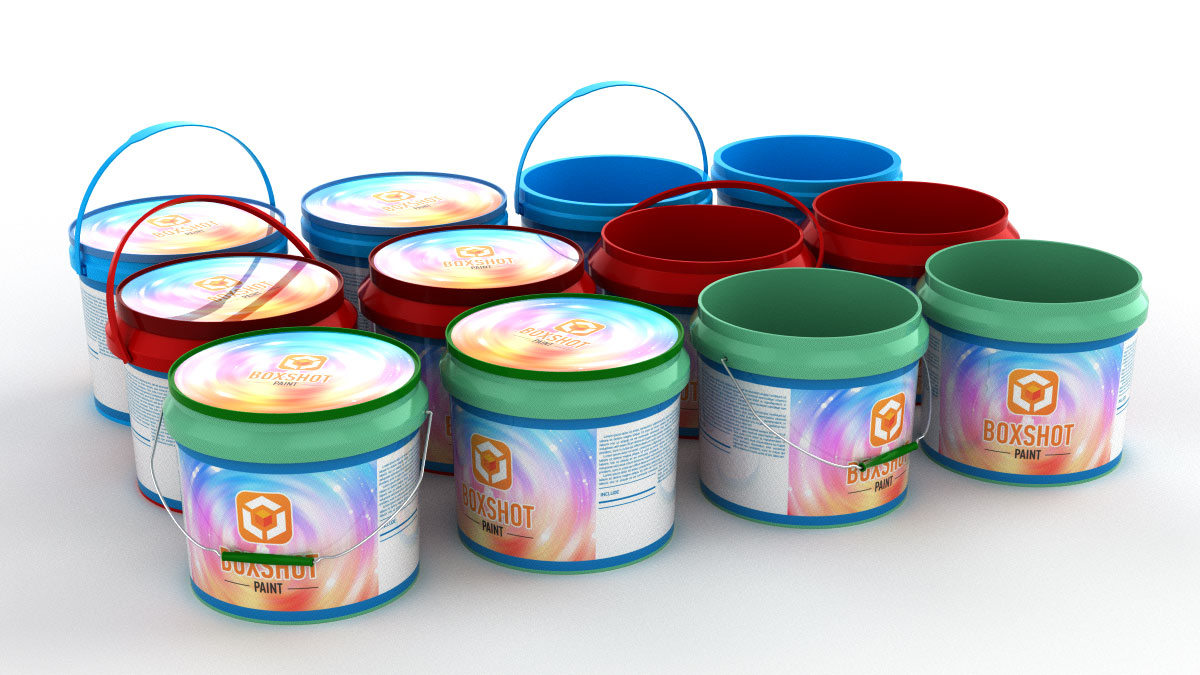 As with most of the other shapes in Boxshot, you can change various parameters like top and bottom diameters, height and size of labels to make the shape and scene exactly as you need.
As for the pallets, there are 7 of them: 4 European and 3 American ones. They are not configurable, as pallets are pretty much standard. Here is a side-by-side rendering by Boxshot and Owlet:

Let us know if you need other pallets, so we can add them in the next updates.
What Else?
Lots of other minor improvements have been done:
semi-transparent mediums can be now rendered on transparent background;
DPI information retrieving is improved for JPEG format;
Collada and FBX formats importing has been improved;
better noise-reduction algorithms have been utilized;
automatic scaling of third-party shapes has been fixed;
coil/comb/wire binders got adjustable thickness;
Retina displays are now supported on Mac OS X;
raytracing preview got some improvements, including faster update when moving shapes around;
job manager has been significantly improved inside to handle jobs better;
some rare crashes have been identified and fixed, thanks to your reports.
So we did a big job of fixing things here or there, added some shapes and connected Boxshot to Owlet. It's not that bad, right? Now visit the downloads page to get the latest version.
Finally
We also released a new version of Owlet today, so don't forget to update it, as well in order to try the integration between the applications.
Cheers!