Barcode 1.4 and Illustrator XML editor
03 Sep 2015
This version of Barcode adds preset manipulation and printing support. We also announce a nice free service for the Illustrator users. Read on for more details.
Barcode improvements
Since the very first version Barcode had a limitation of one preset per symbology. According to your feedback that is not always the case and sometimes you simply need two different types of ISBN-13 barcodes. Starting with this version you can clone, rename, delete and add barcodes to the main list you see at startup. So if you need two EAN-13 barcodes - just clone the one you have or add a new one using the big "New Preset" button: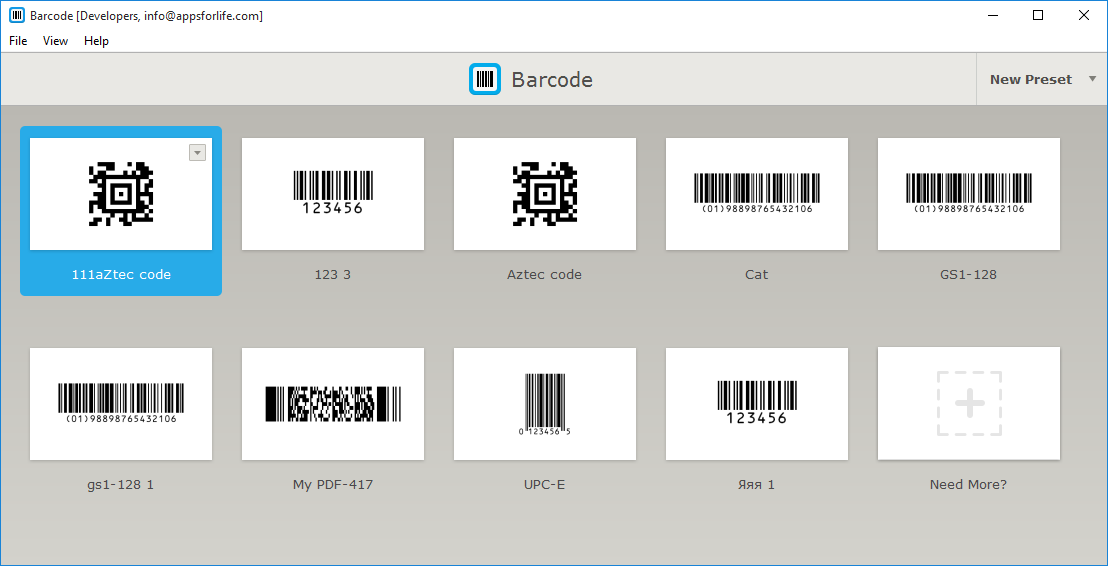 Another big improvement is the ability to print barcodes directly from the application. The big printing button at the editing screen lets you easily print a barcode in one click!
Other improvements include better application stability and some minor ISBN-13 fixes related to the light margin indicator and custom ISBN texts.
As usual you can update Barcode by visiting the downloads page.
Illustrator XML editor
Some of you may used the Illustrator variables feature. It is really nice as it lets you use the artwork as a template for your data. Think of multiple business cards with different names or different label designs driven by text data. Illustrator can do that with variables, but the file format they use for the data is terrible even for programmers.
That's why we decided to make a little free online tool that allows you to fill a grid with your data or import CSV/TSV file and save them as an XML file that can be easily loaded to Illustrator. Give it a try if you use Illustrator variables, or give Illustrator variables a try if you never tried them - they are worth it, especially with our converter :)
Please feel free to contact us if you are interested in the desktop or intranet-version of such service, let's discuss that.
That's all for now, stay tuned for the new announces :)
Cheers!