Apple M1 Max vs M1 in Boxshot
05 Nov 2021
So two weeks after Apple announced their M1 Pro and Max processors, we've got a shiny new 14" MacBook Pro with M1 Max inside to test it with Boxshot renderer.
A Scene For Testing
As Boxshot is about packaging mockup, we decided to use a complex "point of sale" scene made by one of our long–time friends which contains multiple objects on shelves and reflective floor to double the calculations: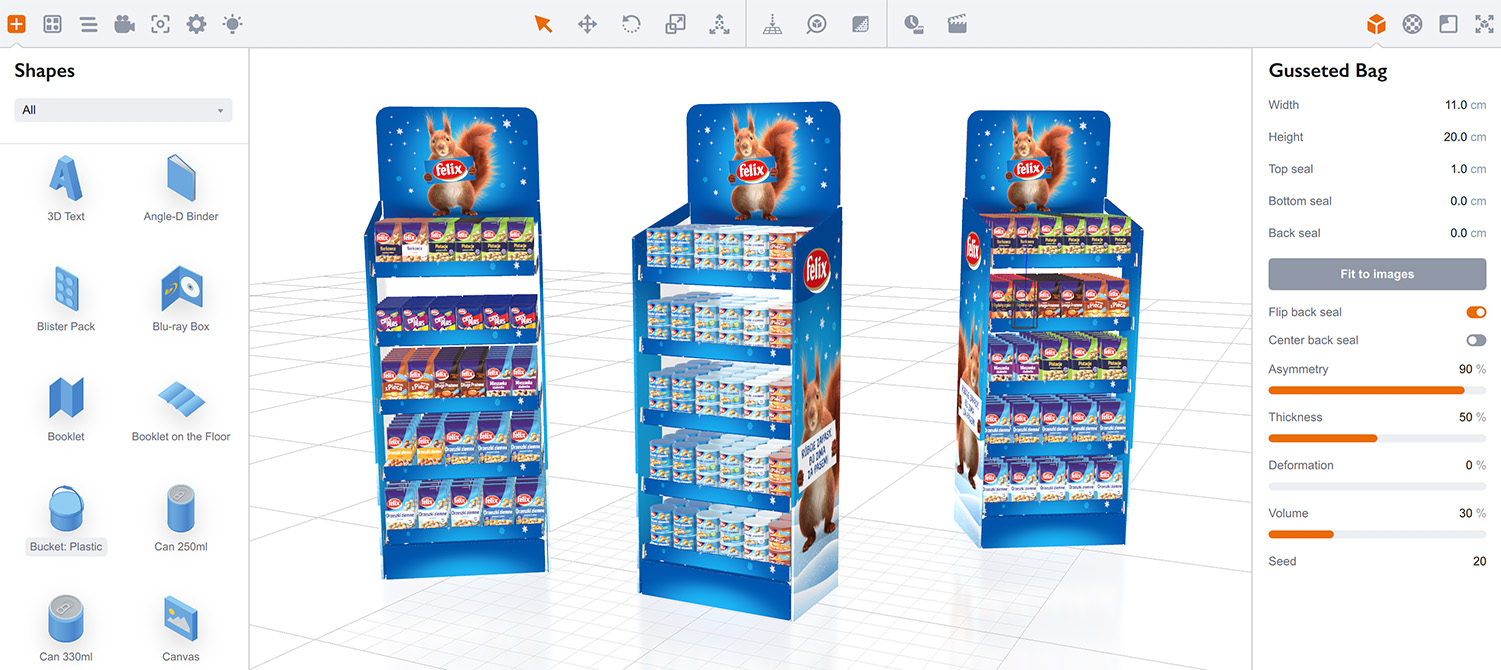 The scene was rendered in 4000x2500 pixels resolution with 1000 samples per pixel first on CPU and then on GPU. Both renderers actively use every bit of hardware available, so the test compares the multi–core performance of the CPU and the overall performance of GPU for both processors pretty well.
All the tests were performed with the latest beta version of Boxshot.
CPU vs GPU
We tried to achieve good performance with GPU rendering in Boxshot for many years, but unfortunately ray tracing doesn't fit really well there. GPUs prefer performing similar operations on large amount of data, but with ray tracing each ray is different which slows down the GPU pipeline below the CPU speed.
The first GPU that out–performed its CPU in our tests was Apple M1, so Boxshot now offers a Metal–based GPU renderer on that processor. The same code running on Intel–based Macs, even Mac Pros was terribly slow, so we had to stick with CPU–only mode for Intel.
Now as M1 Max is here and comes with much more GPU (and CPU) power, it would be nice to know how faster it is…
Test Results
Here are the results of the tests (HH : MM : SS) the smaller — the better:
| | CPU | GPU | Times faster |
| --- | --- | --- | --- |
| Apple M1 | 01 : 06 : 12 | 00 : 42 : 20 | 1.564 |
| Apple M1 Max | 00 : 45 : 35 | 00 : 08 : 16 | 5.514 |
| Times faster | 1.452 | 5.121 | |
So compared to Apple M1, Boxshot renders 1.5 times faster on the new M1 Max CPU and 5.1 times faster on GPU.
The GPU to CPU speed comparison is also impressive: while rendering on M1 GPU was 1.6 times faster than on CPU, on the M1 Max it is 5.5 times faster!
CPU numbers match the various other benchmarks pretty well, as most of them show about 1.6 times better multi–core performance compared to M1.
GPU performance in Boxshot is actually above the other benchmarks' numbers, as they usually show about 3.5 times speedup, while Boxshot gets an impressive 5.1 times boost. Good for us :)
What About Intel?
The same scene was rendered on two older Intel–based Mac Pros with CPU renderer just to compare the performance:
CPU Rendering Time
Mac Pro 5,1: 12 cores, 3.43 GHz
00 : 37 : 00
Mac Pro 6,1: 12 cores, 2.7 GHz
00 : 43 : 00
M1 results again, for convenience
Apple M1
01 : 06 : 12
Apple M1 Max
00 : 45 : 35
The good old Mac Pro still rocks here, but M1 Max is getting pretty close. I bet the M2 or what comes next will provide a further 1.5 speedup and finally beat the old guys without turning on the fans.
What About M1 Pro?
Unfortunately, we don't have it here for testing, but from the numbers available it should provide pretty much the same CPU rendering performance, at least with the top model which comes with the same 8 fast cores, as the M1 Max. Maybe the slower memory will reduce the numbers a bit, though.
As for the GPU rendering, M1 Pro has twice less GPU cores in its top configuration and combined with the slower memory, you should expect about two times faster rendering compared to M1 which is still not bad.
Verdict
The verdict is that M1 Max GPU rocks and its CPU rocks a little less. If you use Boxshot professionally, upgrading to M1 Max and using GPU renderer should save you a lot of time.
If you are still on Intel Mac, consider trying M1 unless you have those heavy and warm number crunchers :)