3D Box Maker
Here you can make realistic 3D box mockups. Upload your artwork, drag the box to rotate and zoom, download the image when ready. Scroll down for more information and hints.
Camera
Direct Lighting
Object Lighting
Floor Shadow
Select Image for Downloading
The longer you render, the better image quality you get.
Use the progress bar at the bottom of the preview area as a quality hint.
Please wait...
You will be redirected to the order page when the high–resolution image is ready
Error
How it works?
This page is constantly rendering a 3D box mockup with the artwork you loaded. Every time you move the camera or change a parameter — the rendering starts from the beginning. It may take some time for the noise to come away and you get a nice and clear picture. The progress bar below the 3D box image indicates the optimal rendering time. You can wait more and get an even better result, or you can wait less if you like the image. Just give it at least 10–15 seconds to settle the most noise down before downloading the image.
How to load artwork?
Simply click the artwork thumbnails on the left and select your own box art. The box will be resized automatically to match the new artwork. You can also drag and drop your artwork onto the slot instead of clicking it.
How to configure other sides?
For simplicity front image is applied to both front and back side, and the side image is applied to both left and right sides. As you can't see front and back or left and right sides at the same time, it doesn't really matter. Simply load the images you need for this particular camera angle.
For more box types and options, consider trying Boxshot — our desktop software designed for box rendering.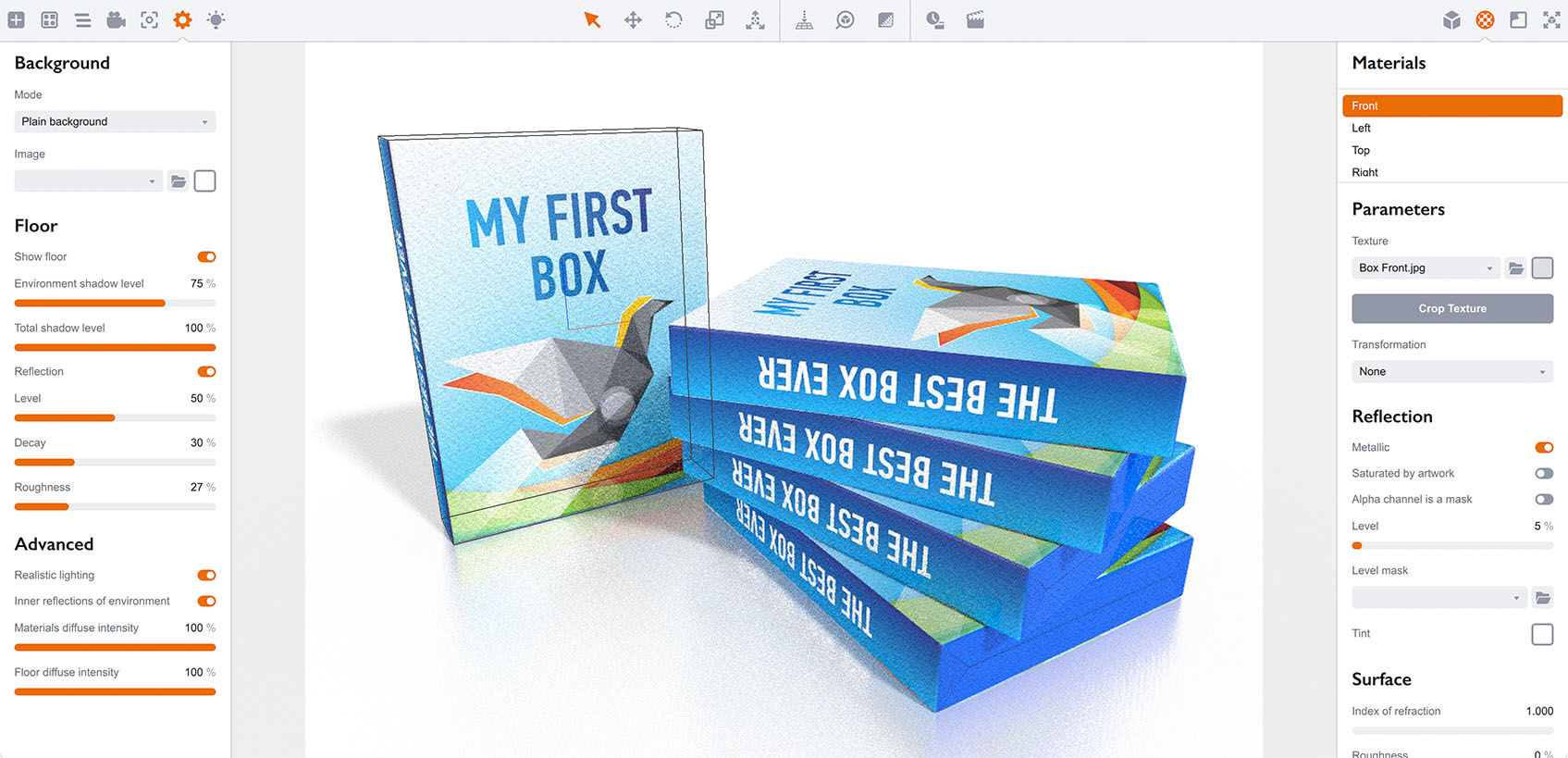 Read more about rendering 3D boxes in Boxshot
Still have questions?
In case of any issues, suggestions or ideas — please feel free to contact us and discuss that.