3D Book Cover Maker
Here you can make eye catching 3D book mockups for sharing on social media or for any other forms of book marketing. Upload your artwork, drag the book to rotate and zoom, download the image when ready. Scroll down for more information and hints.
Camera
Direct Lighting
Object Lighting
Floor Shadow
Checking your Day Pass...
Rendering Your Image...
Give us 10 more seconds to finish rendering your image. This helps reducing noise, and overall improves the result.
Meanwhile, please read the information below.
This free service is a preview of our Boxshot software.
Boxshot comes with 50+ built–in shapes, including books, boxes, bags, mugs etc. Boxshot offers advanced materials, a powerful rendering engine and lets you do much more compared to this online version.
We offer a free demo, give it a try today by clicking the Try Boxshot button below (opens in a new tab).
Your Day Pass Expired
Your day pass expired and you can only render standard quality images now. You can purchase another day pass or continue in free mode.
Too Many Requests
You've rendered too many images recently, please take a 15 minutes break and keep the service usage moderate to comply with the fair usage policy.
Error Checking Day Pass
Unable to check your day pass due to the Internet connection problems. You can try again later or switch to free mode.
Your Image Is Being Downloaded
Thank you very much for using the service.
For a limited time we offer a free upgrade to high quality rendering if you are willing to spread the word about our service.
Simply make a review of our 3D book cover maker, 3D box maker or 3D screenshot maker, publish it and send us a link to get free access to high quality rendering.
The review can be in text or in video form, it should contain a link to the reviewed service page and hit an audience (even a small one).
Get High Quality Images
We offer 24 hours of full access to high quality images for just $9.95!
You pay online with PayPal and immediately get access to high resolution images, transparent backgrounds and better quality.
Select Image for Downloading
If the downloaded image is too noisy, give it more time to render better.
* — for $9.95 you get 24 hours of unlimited access to high quality rendering and other features
How it works?
This 3D book cover generator is constantly rendering a realistic book model with the pictures you loaded. Every time you move the camera or change a parameter — the rendering starts from the beginning. It may take some time for the noise to come away and you get a nice and clear 3D image.
The progress bar below the book image indicates the optimal rendering time. You can wait more and get an even better result, or you can wait less if you like the image.
Just give it at least 10–15 seconds to settle the most noise down before downloading the image.
How is it different?
The main advantage of our book cover maker is that it allows you the maximum flexibility of camera, lighting and shadows. Most of the competitors use static mockup templates and don't let you change the camera angle, lighting, shadows or even the book size. We offer a dynamic environment where the book is automatically adjusted to the artwork you load, camera and lighting are under your full control and you can even adjust camera focus using the depth of field sliders!
Another advantage is the path tracing algorithms we use to compute realistic shadows by calculating all the light bounces between the parts of the book. Check the shadows at the bottom of the book or at the top near the headband — you will hardly find these somewhere else, especially for free.
How to load artwork?
Simply click the artwork thumbnails on the left and select your own ebook cover image. The book will be resized automatically to match the new artwork.
You can also drag and drop your image onto the slot instead of clicking it.
What book types are supported?
You can render hard cover books and paperbacks here. Switch between them using the Hard cover option on the right. Turning that option off gives you a 3D mockup of paperback book.
For more book rendering options, consider trying Boxshot — our desktop software which can render almost any book with all the details you might need.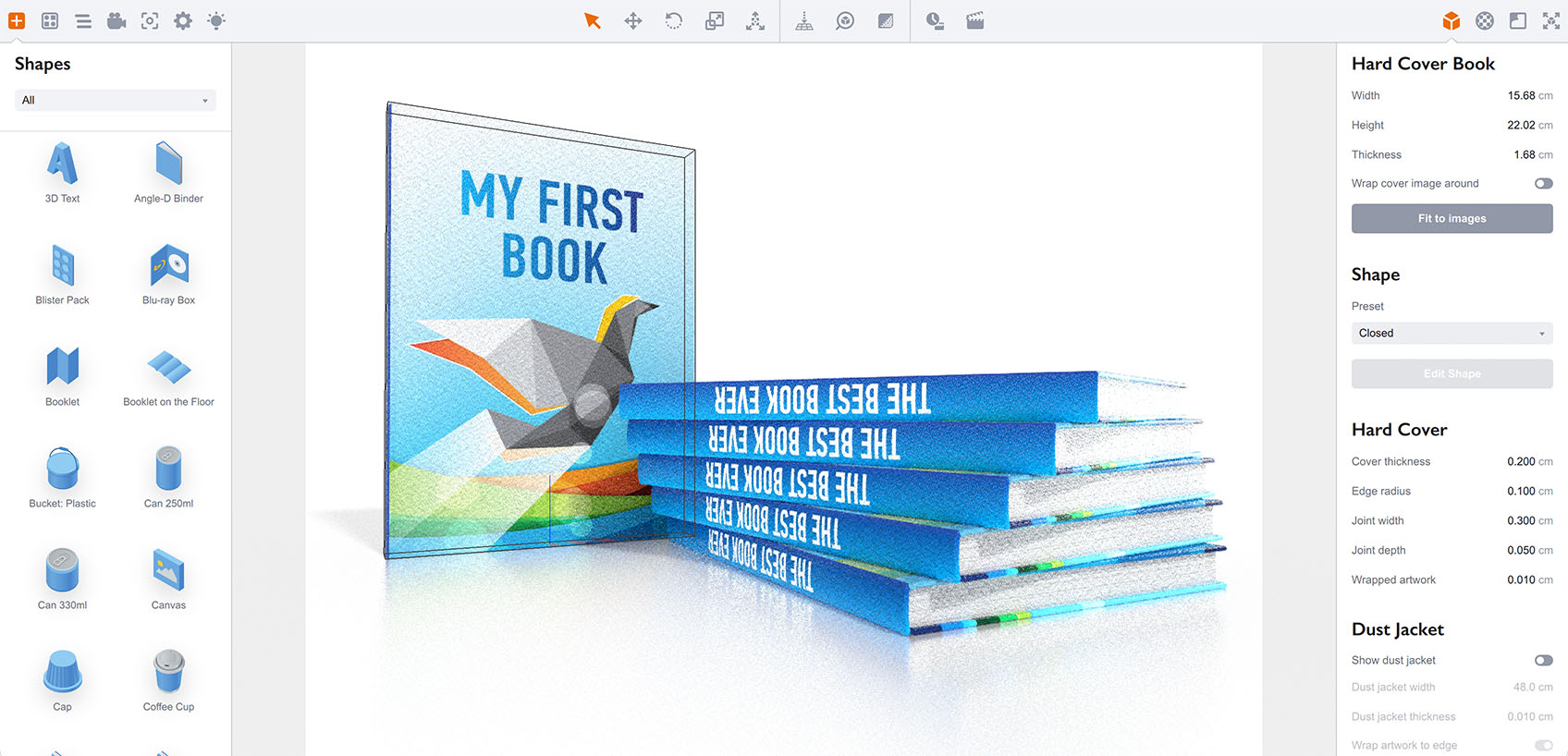 Read more about rendering 3D books in Boxshot
Need artwork?
There are many ways you can get the artwork for your book. We even offer a free book cover maker for your convenience. However, the truth is that you need to be a designer to make a good cover art. More, not every designer is a good book cover designer, so it might worth getting your book cover designed by a skilled professional.
If you still want to do it yourself or for free, try searching for free templates or for a book cover creator — there are plenty of them around. If you are lucky, try finding someone who can make you a free ebook cover for portfolio.
Once you get the artwork done, come back here to render your 3D ebook cover using our book mockup generator.
Need more information?
Have a look at the topics below:
Still have questions?
In case of any issues, suggestions or ideas — please feel free to contact us and discuss that.